The West Coast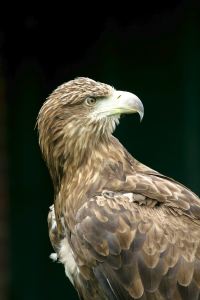 You can't help but go "Wow!" when you see the west coast of the Highlands. It is just amazing. The scenery is stunning but the wildlife can be even better. Otter, Basking Shark, Sea Eagle and Golden Eagle can all be seen in a day, plus many species of seabirds. In addition all three species of divers can be seen on a spring day, Red-throated, Black-throated and Great Northern. There is the option of taking a wildlife cruise from Gairloch into the open sea where all manner of whales, dolphins and seabirds can be found, not to mention the odd rarity.
Dornoch and East Sutherland
This is a fantastic part of the world and not often visited, so peace a quiet can be easily found even though it is less than an hour from Inverness. There are Ospreys aplenty on Loch Fleet, rare plants in the woods of Little Ferry and lots of Common Seal to get a close look at. Nearby we can look out for the only place to regularly see Little Tern in the Highlands plus a bit of sea watching in season. On the moors we have the chance of seeing Hen Harriers and maybe even a Merlin. By the Falls of Shin where we can see the Spring and Autumn runs of Salmon leaping up the falls. One of Scottish wildlife's most amazing events.
Easter Ross
This area is one of the least visited by wildlife watchers coming to the Highlands but it has more than a few gems and is generally a fantastic place to watch wildlife. The coastal sites can be fantastic for wildlife, the RSPB hide at Nigg and Tarbat Ness; a remote headland with lots of bird movement past it. The views are spectacular too. We will travel through farmland, with the best chance of seeing Grey Partridge on any of the days offered, and up into moorland and pine forest looking for Crossbills and Crested Tits.
Winter Birdwatching
With such a large area of mudflat round the coast of Moray Firth it offers a major feeding station for birds coming to winter here. From October to April you cannot fail to be impressed by the sheer numbers of birds to be found at the coasts. Whether it is the whistling Wigeon, the honking geese or the peeping of the Oystercatchers, there are thousands of birds to see and tens of species. Flocks of Long-tailed Duck and Common Scoter can be seen often with some Velvet Scoter or even a Surf Scoter. Slavonian Grebes and Scaup are also to be found at particular locations. All this combined with the most fantastic light at dawn and dusk makes for a memorable day out. With excellent sites from Spey Bay to Loch Fleet the Moray Firth is your oyster; so to speak.