Biography & Experience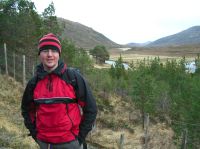 My career as a naturalist started, somewhat unusually, in front of the TV. I was an avid fan of exotic nature documentaries and all manner of animal and plants facts. After I left school I still harboured a desire to be the next David Attenborough but from then on my appreciation of nature came very much at first hand. I gained much knowledge and understanding of Scotland's wildlife and habitats through my B.Sc. in Zoology and M.Sc. in Ecology, volunteering on Nature Reserves and finally, paid work guiding and working in nature conservation.

I am Lowlander by birth but a Highlander by inclination. I started my guiding career in 1995 with two years at Aigas Field Centre, just outside Inverness. I continued guiding groups in my various jobs after that. I moved back to the Highlands in 2005 and in March 2006 I started Red Kite Tours. This was a dream come true and has been the most satisfying endeavour of my life.

My main interest is wildlife guiding, but soon after I started guiding I realised no wildlife in Scotland lives beyond the influence of people. So I needed to understand the history, folklore, geology and place names of the Highlands to successfully interpret the exceptional landscape and wildlife found here to my clients.

My Favourite Bird - Swift.
My Favourite Dragonfly - Beautiful Demoiselle
My Favourite Place - Anywhere in the North West Highlands.
I have worked as a Wildlife Guide since 1995. I have been constantly building my knowledge and experience since then. I am committed to Continuing Personal Development (CPD) and in the last 10 years I have averaged over 20 days CPD annually. Since 2008 I have been the Lecturer on wildlife for the Scottish Tourist Guide's Association, Blue Badge course. Since 2016 I have also become a mentor for the students on this course.

Since 2003 I have visited other Finland, Germany, France, Portugal, Spain and Latvia on field trips and have gained a wider perspective on Scotlands' ecosystems within a European context.

Formal Qualifications:
Emergency First Aid Certificate. 2018-21.
Scottish Tour Guides Association. Blue Badge. August 2013.
Certificed Interpretive Guide Trainer through the National Association of Interpretation, Fort Collins, Colorado. May 2012.
Certified Interpretive Guide through the National Association of Interpretation, Fort Collins, Colorado. March 2011.
Scottish Tourist Guide Association regional affiliate for the Central Highlands. 2008.
Scottish Tourist Guide Association Guide Trainer. 2007.
Highlands of Scotland Tour Guide Association – qualified Guide. 2006.
Scottish Tourist Guide Association regional affiliate for Caithness and Sutherland. 2006.
MSc in Ecology (1994). University of Aberdeen.
BSc in Zoology (1992). University of Glasgow.